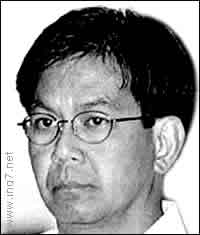 Today is Monday, and starting the week with a dose of politics seems to uplift my spirit. Last week, I made a rundown on the reasons why I will or will not vote. This time, I will provide the list of candidate who will and will never get my vote.

I will not vote.....

Mike Defensor..... The guy really likes to row a boat in two rivers. He appears to be competent, but his ass kissing attitude is scary.

Coco Pimentel..... Being a bar topnotcher is not an assurance of competence. But the most glaring barrier to his possible victory is his direct association with the elder Pimentel.

Sonia Roco..... Her comments on autism might ring a bell. On a clearer point, I am not voting her because she will just duplicate Loi Estrada.

Prospero Pichay..... Have you heard of his district being as prosperous as his name? If he can't do it on a local level, then a national position is unlikely.

Ralph Recto..... The EVAT was supposed to improve the economy. Well, as what I observe, the EVAT is an additional burden that diminishes buying power.

I will vote.....

Edgardo Angara..... No doubt Angara is a traditional politician. But among the candidates, he has passed the most significant laws.

Francis Pangilinan..... I am not voting him because he opted to stay independent. I am voting him because he is KC's stepfather.

Joker Arroyo..... Age does nor matter in politics according to some. Arroyo has figuratively and literally lived by this perception.

Francis Escudero..... There has to be someone who will inject new blood in the Senate. Among all the young candidates, Escudero's blood appears to be the most compatible.

Panfilo Lacson..... Throughout his career, Ping has been hounded by various controversies. But the man is tough and my best bet to instill integrity in the deteriorating walls of the Senate.

Of course this list will never materialize. But a hint will always help in making decisions. I may not be right, but at least I made a choice.